Welcome to Historical Medallions - Collectable British Medals & Medallions
Welcome to my website showcasing historical medallions from the last four centuries. You may be familiar with my late Aunt, Mrs Neddy Allen who was a numismatist for over 40 years, and had a special interest in medallions related to the City of London. She learnt about the medal business from her late husband, Peter Maundy Allen, and continued to trade well into her 80's. Over the last 15 years, she gradually passed on her knowledge to me and it was the stories behind each of the medallions that I found fascinating. These historical events shaped our country and many have significance still to this day. Whether it be a gift for someone interested in a special event or something that adds to your collection, owning a medallion is to have a true piece of history to treasure.
Discover Our Unique Medals & Medallions Collections
Discover our unique collection of Royal Medals and Medallions
Royal occasions dominate most medal collections as it was the monarchy that were directly involved in key events of a nation.

These occasions vary from significant political and social changes as seen in the restoration of the monarchy in 1660, through to more personal tributes such as George II showcasing his large family in 1732.

During the 19th century, Queen Victoria visited many countries as well as hosted many foreign visitors in England and these events were commemorated with several medallions as well.
Medallions have been issued for British coronations since James I in 1603 until George VI in 1937.

For the monarchs that reigned for more significant periods of time, notably George III and Queen Victoria, Jubilee medallions were issued.

Click to Discover Coronation and Jubilee Medals
Royal Wedding Commemorative Medals
Royal marriages were most often political contracts between countries rather than any kind of love match. In fact, a successful royal marriage that produced several children and heirs was quite an achievement as many of these lifelong agreements gave minimal importance to similarities such as age, interests or even religion.
This group of medals spans Royal marriages from the 17th century through to one of the most successful unions between Queen Victoria and Prince Albert, who married in 1840. They had 9 children together and when Albert died at the age of only 42 in 1861, Queen Victoria went into a deep mourning and wore black for the rest of her life.

Finest Medals & Medallions with Unique Collections
Historical Medallions is dedicated to Numismatics, the study and collection of rare commemorative British historical medallions. We'll help you find medals that celebrate royal, political and military events through the 17th, 18th and 19th century. At Historical Medallions we aim to stock only the finest pieces so that your purchase, with proper care, can appreciate over time and be a valued part of your collection. Have some fun browsing through the various collections, any purchases made in the UK will be sent with complimentary postage.
Medallion News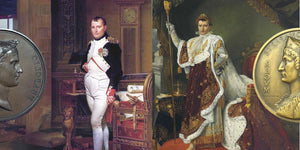 Think of French history, and one of the first names that is bound to crop up is Napoleon Bonaparte. Born in Corsica, he rose to lead the French empire...